While Ames and I were just getting back from our San Francisco trip, I missed Andy Clarke's preview post about his new book, Transcending CSS. In fact, it wasn't until I saw a snippet about it on Digital Web that I even knew that he had even written a book.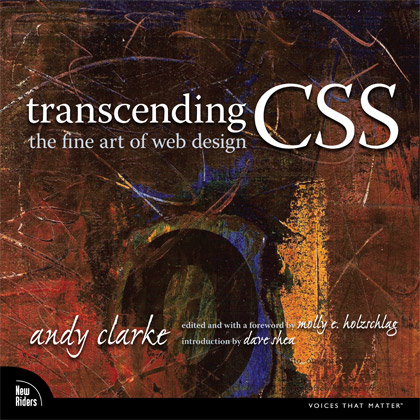 My curiosity was piqued, and I had some holiday book shopping to do anyway, so Ames and I headed to Barnes & Noble over the weekend. While we were there, Ames grabbed a book about Kitchen Renovations and I picked up Transcending CSS and we spent a "grande half-hour" considering our prospective purchases. As I scanned through the four main sections of the book, I discovered that this wasn't a book for beginners wanting to learn CSS, but rather a challenge to current CSS webdesigners to take their work to the next level. Unlike many other books on the topic, I am the target audience, and the content seems to be both intriguingly advanced, and relevant to today's webdesign issues. While I was expecting great written content, I was completely blown away by the visuals. The entire book is peppered with stunning artwork, illustrations, photographs, and screenshots that make it almost as beautiful as it is practical.
With all that said, I decided to wait till after our holiday spending was over before buying myself another book. However, this morning I got the email that Barnes & Noble was offering a one-day 25% off coupon with "fast and free" shipping. This was an offer I could not refuse, so now I should have the book before the holidays. Merry Christmas to me!