This post was imported from a blog called Contemporation where Amy and I wrote about the renovation of our 80's contemporary home in Atlanta. That blog is no more but I wanted the content to live on.
A lot has happened since our last post in mid-January but we haven't taken the time to write about any of it. Our contractor finished up his work in February and we rushed to get the house settled enough to have a little 1st birthday party for Adelyn on March 9th.
Since then, the pace has slowed significantly but we're still making progress. We recently moved everything out of our storage unit (hooray!), did some baby proofing and hung a vanity light in one of the bathrooms. We're still working on hanging our barn doors on the entrances to the 2nd floor bath, our master bath and our master closet. We have, but haven't hung the towel bars and toilet paper holders in any of the new bathrooms, and we still need bathroom mirrors. One of the biggest items we were still missing was a dining set.
While it's tempting to just go out and buy all the things we need new, we just put a lot of money into our addition. We need to save cash where we can and the best way to do that is to buy things used. While that sounds good in theory, we've been hunting Craigslist for the right dining set for months and haven't had much luck. In true Macklemore style, we were browsing through Sack's Thrift Ave in Duluth last weekend when we came across the perfect table.
The top needed to be refinished and it was too tall but for $60, it was perfect. The table top had a few marker stains and some initials carved into it so we're guessing it was in a school at some point. The first task was cutting down the legs. The height was about 35″ when standard table height is 28-30″. I used a metal blade with my sawzall to cut 5″ off each leg and found some plastic caps at Lowe's to insert into each of the cut-off feet.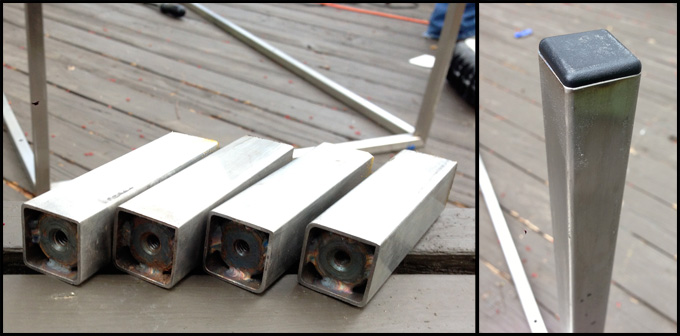 Next was refinishing. We used a hand sander, starting with a 90 grit (pretty coarse) sandpaper and working up to a 120, being careful not to sand too deep into the center panel which was just a veneer.
Once we had it smooth, we started applying the varnish. We applied 2 coats on a Saturday with some light sanding between, then put the last coat on Sunday. Since we saved so much buying the table, we figured we had some room to splurge a little on the chairs. We really liked the look of the Eames DSR chair but at $300 a piece, they were way out of our budget. In searching around though, we found a lot of Eames-style knock-offs. The Ronnie Wire Base Chair from Overstock seemed like the best option at $124 a pair. That's right, $124 for TWO chairs!
We were a little worried about what the quality would be like but getting all 6 of the chairs we needed for less than $372 with free shipping seemed like a no-brainer. While we never actually got to try out the original, it's been about a week with the Overstock version and we're pretty happy with them. So is Adelyn.
While it would have been nice to just find a dining set that we liked, I don't think we would have found a set anywhere that makes us as happy as this one does. The best part is that it only set us back a total of $432 and a weekend's worth of work.